Inside De Castle Royal BKKI
De Castle Royal is Cambodia's first and leading luxury living space in the form of an elegant high-rise condominium development, located in the heart of the rapidly developing capital.
Our aim is to offer residents the comfort of a castle combined with a sense of distinction and refinement. De Castle Royal uses tasteful, modern designs to reflect the vibrant pace with which Phnom Penh is moving, and understanding that space in the capital is limited, has created a dedicated 32-storey high-rise block containing 414 units.
The units, which range from one to five-bedrooms, come complete with all of the mod-cons, and high-end technology and services. And the stunning architecture and stylish decor has also been creatively designed to mirror modern-day living. A hotel-style reception greets guests, an impressive entrance hall and feature wall add grandeur, the interior design reflects contemporary style, and condominiums have been uniquely designed to maximize the use of natural light and breeze.
The Parking lot spans 7 floors to minimize congestion in the bustling BKK1 area and the rooftop garden provides a green space for residents to relax. De Castle royal residents are freely accessible to the top-brand Gym, Swimming pool, Sauna, Mart, Café and other common facilities.
Location
No.34-36, St. 288, Sangkat Beung Keng Kong 1,Khan Chamkarmorn, Phnom Penh, Cambodia
Scale
Underground 3 Floors, Above 33 Floors (Height : 117 M)
Units

| | |
| --- | --- |
| 1 Bed: | 166 Units (89.5㎡~114.8㎡) |
| 2 Beds: | 118 Units (139.5㎡ ~162.8㎡) |
| 3 Beds: | 98 Units (228.6㎡~ 261.5㎡) |
| 4 Beds: | 18 Units (330.3㎡~ 331.1㎡) |
| 5 Beds: | 6 Units (396.1㎡) |
| Penthouse: | 8 Units (618.3㎡ ~ 705.1㎡) |
| Total | 414 units |

Parking
Total 474 lots (7 floors from B3 to 3F)
Site Area
2,926.10 ㎡
Building Area
1,550.29 ㎡
Completion of Construction
2014. 6. 30
Developer & Construction
NURI D&C Co., Ltd.
Opening of building
2014. 7. 28
Location
De Castle Royal situated in the prime location in Boeung Keng Kang 1, surrounded by supermarkets, brand name shops, popular restaurants, banks, international schools, embassies, and IO/ NGO offices. It is only walking distance to the city's facilities and attractive places.
It locates on street 288, Sangkat Boeung Keng Kang 1, Khan Chamkarmon, Phnom Penh.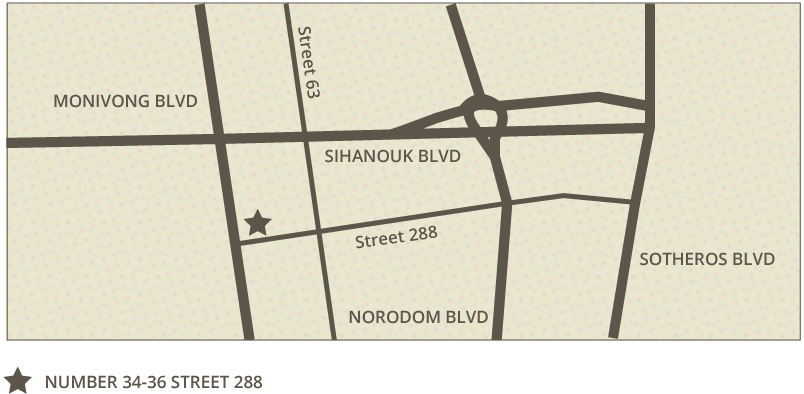 Elevators
The best elevator in Phnom Penh. The building is equipped with 6 Hyundai elevators with safe, high speed and large capacity.
Lighting System
The whole building is furnished with LED lighting system which enables energy conservation and long lasting lighting. Different colors of directional lightnings will make residents feel cozy and comfortable.
Lightning protection system
Lightning rods have been installed on the roof of the building to prevent lightning strikes endangering residents or damaging property.
.
FOR MORE INFORMATION